What To Eat in Dubrovnik – Foodie Guide
What to eat in Dubrovnik next time you find yourself in a local restaurant? Read our blog post and make sure you know exactly what. 
The food in Dubrovnik is usually based on fantastic stuff like olive oil, fish, vegetables, and seasonings like rosemary, garlic, basil, and parsley. There are some meals, that you can taste only in Dubrovnik, and we promise – they are quite spectacular. Let's start. 
Crni rižot or Black Risotto
You either love it or you don't. Cuttlefish ink risotto is a test for true fans of everything that comes from the sea. Try it and you'll find out.
On many occasions, we eat it as a main course since it's such a classic. It's black because of the squid's ink. The globally popular chef, Jamie Oliver, has featured a traditional Croatian dish on his latest TV series Jamie's Friday Night Feast Cookbook with a little help from a well-known UK actor. David Tennant, the former Dr. Who, actually visited Dubrovnik in the BC series Casanova and has fond memories of his time in the ancient city.
Check out Jamie Oliver creating this Croatian specialty following this link.
A delicious seafood platter
If you are a seafood lover, then you can't miss this dish when eating in a nice restaurant in Dubrovnik. Everything which comes from the Adriatic Sea is always very tasty, that's the rule you can follow. The fish in Dubrovnik is always fresh and caught nearby.
Dalmatian cuisine is defined by its sea-to-table fish and a spectacular array of seafood. In particular, oysters from nearby Mali Ston are world-renowned, with dedicated gourmands pilgrimaging to the Peljesac Peninsula to sample the salt-water treats. Foodies should note the best time of year to order fish and seafood in Dubrovnik's restaurants. 
When it comes to grilled fish, what you see is what you get, and you can always ask the host to recommend the specialties of the restaurant.
What wine goes well with this meal? 
Red wine
Mušule na buzaru (Stewed mussels)
Buzara is a method of cooking seafood, mainly the shellfish, typical for this area. Again, it's pretty simple; shrimps, scampi, mussels or clams are cooked with white wine, garlic, parsley and breadcrumbs and sometimes the tomato paste for color.
What wine goes well with this meal? 
Red wine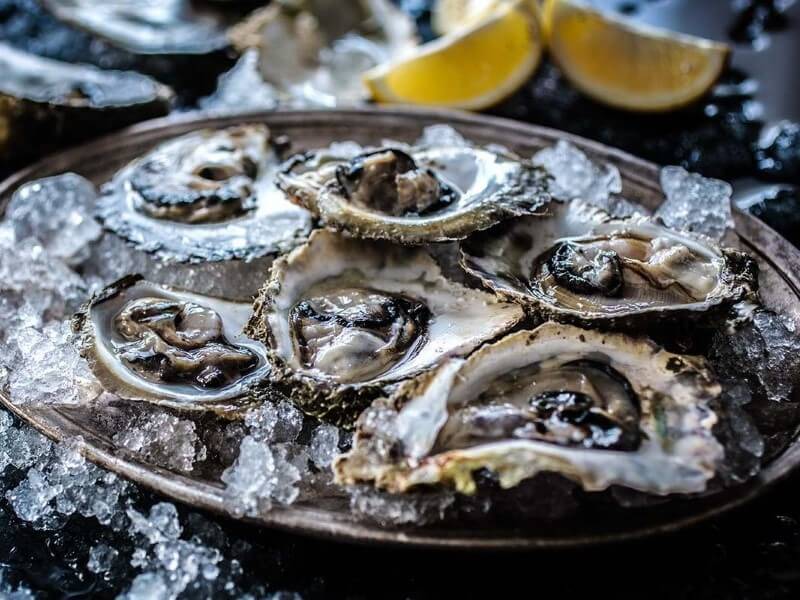 Šporki Makaruli (Dirty Macaroni)
There's absolutely nothing dirty about this traditional dish from Dubrovnik. But why "dirty" then? Well, let's just say that this dish is very similar to Italian Pasta Bolognese or Ragu di Carne, and it's the heavenly meat sauce that makes them a little dirty… you can find them in Lucin Kantun restaurant.
Fresh Oysters
Eating oysters in Mali Ston should be an essential part of your trip to the Dubrovnik area. Trust me on this one. Even the top travel experts agree that this should be on everyone's bucket list. Why? Oysters that come from the seabed of Mali Ston Bay have been cultivated since ancient times and we can proudly say that they are world's most delicious oysters. The legend has it they were consumed in honor of Aphrodite, the goddess of beauty… And who are you to argue?
Peka

Baking dishes under the lid, the bell, honeycomb, depending on which part of the country you are in, is the traditional way of preparing food in this area, and the food is actually half-baked, half-cooked in its own juices. The aroma and smell of dishes prepared this way are really special.
Enjoying delicious veal, lamb or goat meat under the bell or seafood specialties such as octopus and rays is best with warm homemade bread.
Zelena Menestra ( The Green Stew)
Zelena menestra or the green stew is one of those traditional Dubrovnik dishes that you won't be able to taste anywhere else in the world. It has been mentioned in writings since 1480! Even though many versions of this delicious meal exist in different regions of the Dubrovnik area, this dish is traced back to the Konavle region. The main ingredients are different kinds of meat potatoes and cabbage.
Bosnian Food
Bosnian cuisine is a special mixture of oriental, Mediterranean and continental European cuisine. Many of the traditional dishes have been made from the same recipes for hundreds of years. Mostly based on meat, bread, and dairy, it certainly can sound heavy, but its rich taste and extraordinary ingredients are definitely enjoyable for everyone's taste buds! Čevapi, Burek, Begova čorba, Klepe (Bosnian minced meat dumplings), Dolma, are just some of the dishes that will take you to the heaven of taste, and from this year you can enjoy in great cocktail list at Taj Mahal restaurant in the Old Town or Taj Mahal's sister restaurant near hotel Lero.
Rozata

This is the most popular dessert in Dubrovnik. It's a custard pudding particularly popular during summer months. When explaining this dessert, people usually compare it with creme brulee or flan. But every Dubrovnik local will tell you that this dessert is incomparable to anything else. Let's just say it's a silky scented pudding drowning in pools of caramel.
"Arancini" and "bruštulani mjenduli"
This traditional dessert of Dubrovnik region is basically a candied orange peel and candied almonds! You will probably find it in every other house in Dubrovnik, usually served on the table as "candies." It seems that this recipe dates from ancient times as well since the Romans used gift their friends with it. You can purchase some homemade arancini and bruštulani mjenduli at Dubrovnik's most beautiful green market.
If you wanna know more, check out "What's cooking in Dubrovnik" and get your copy today.